PRISM Independent School and Youth Project emerged from the joining of two local charities in the Girlington area of Bradford.
The first, Bradford Police Club for Young People was founded by a group of police officers and their families in the White Abbey area of Bradford in 1935 to provide a safe place for the young men of the area to come and take part in 'meaningful pursuits'. It was originally named the Bradford Police Boys Club. The club moved to many temporary locations before and following the Second World War up until 1966.  It was at this time that a sub-committee of the Yorkshire Association of Boys Clubs, together with the Local Authority and Central Government joined forces to build the club as it stands today.  In 2000 Bradford Police Boys Club appointed a new director and changed its name to the more inclusive Bradford Police Club for Young People. The club moved its focus from sport to alternative education and grew in strength and reputation working with disengaged young people from across the Bradford District.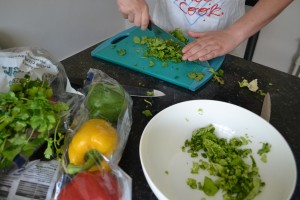 The second Charity was Bradford City Farm, a community, environmental and educational project. It opened in 1983 and developed over 20 years an excellent history of engaging disaffected young people, those excluded from school and those at risk of offending.  Young People are given the opportunity of hands on experience with both animals and the environment, showing best practice in all elements of horticulture and animal husbandry.
In 2005 Bradford Police Club and Bradford City Farm merged and became PRISM Youth Project, taking the strengths of each organisation to successfully engage and educate some of Bradford most difficult to reach young people, those who had been excluded from a mainstream provision or those for whom school is not a good fit. PRISM continued to work with over 250 young people per year through a range of alternative education alongside generic and targeted youth work.
In 2009 it was brought to the attention of Education Bradford that:
"An independent school is defined as any school that provides full time education for five or more pupils of compulsory school age or one or more such pupils with a statement of special educational needs or who is looked after (within the meaning of Section 22 of the Children Act 1989) and is not a school maintained by a Local Authority or a non-maintained special school."
In the light of this context, PRISM felt strongly that the acquisition of independent school status was the right decision to strengthen both our service to young people and the relationship with Education Bradford. The process was started in 2010 and Independent School status was granted to PRISM in December 2011.
The PRISM Independent School continues to deliver high quality, alternative education to young people from not only the Bradford Metropolitan District Area, but also from the surrounding local authorities of Leeds, Wakefield, York and Kirklees.